News
Aston Group unveils first electric vehicle
Aston Group are investing in their fleet, converting them to electric to reduce C02 helping to protect the local communities they work in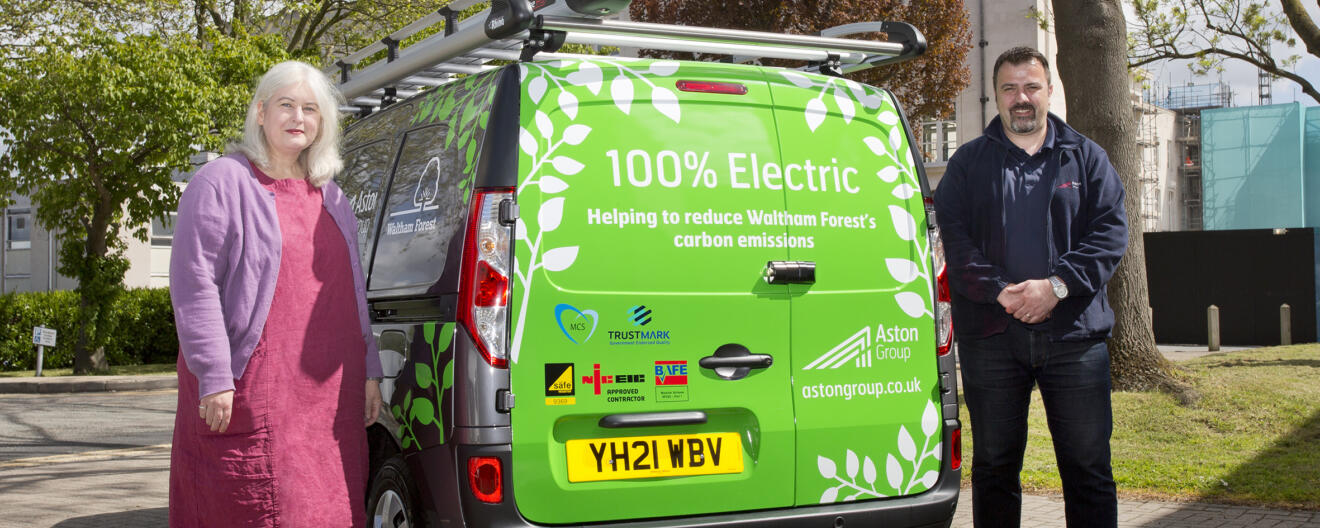 The Renault Kangoo ZE, which is wrapped in bright green graphics, is based at the company's Wood Street office and costs just 4p per mile to run. The vehicle can achieve 125 miles per charge in the summer and 75 in winter, which makes it ideal for nipping about Waltham Forest!
The investment comes as the company develops its sustainability credentials with the aim of significantly reducing its carbon footprint in response to the climate emergency. The Kangoo ZE currently sits alongside the company's existing fleet of vehicles, which are being modernised to meet Euro 6 emissions standards by October 2021. If it performs well, however, it may be the first of many electric vehicles to join the fleet.
Aston Group is currently working in partnership with Waltham Forest Council on a number of projects designed to enhance energy efficiency and reduce carbon emissions within the local community. The company has already installed external wall insulation and solar panels at properties throughout the borough, while overseeing a whole house retrofit project, which will demonstrate the benefits of improved energy efficiency.
Aston Group's Gas and Repair Manager – and the driver of the electric vehicle – Luca Carstea says: "When I first received the phone call about driving Aston Group's first electric van I was a bit worried. It was probably the natural fear of the unknown; I've been driving for 26 years but I had never driven an electric vehicle!